2017 Benelli TnT 125 Tornado Review
5 min read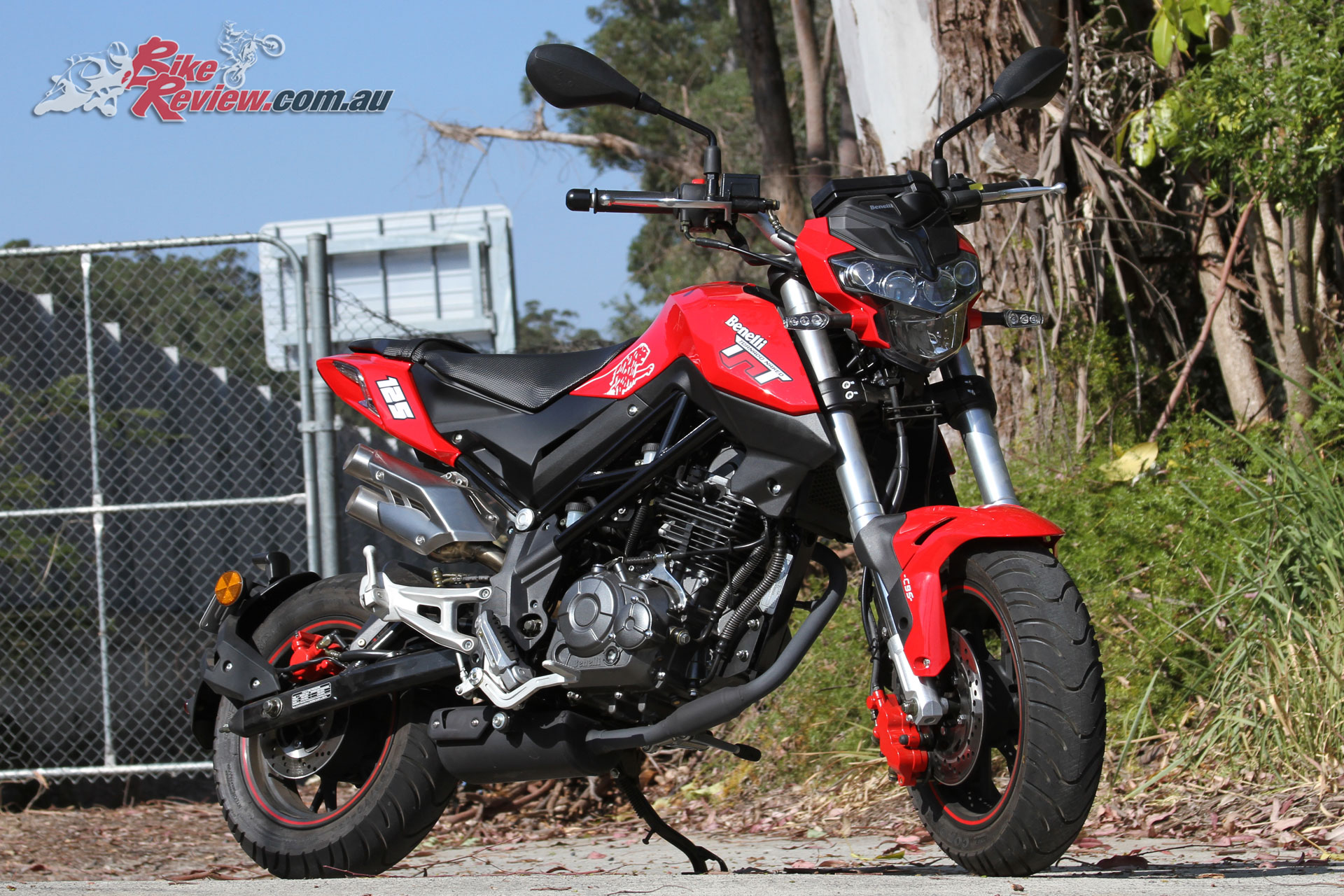 The latest offering to join the road registerable fun/mini-bike craze is Benelli's TnT 125 'Tornado', featuring the expected 125cc single-cylinder powerplant and an attractive price tag of under $4000 ride-away. Needless to say there's been quite the craze around this category, with strong sales, no doubt because they are tiny, fun, and relatively inexpensive.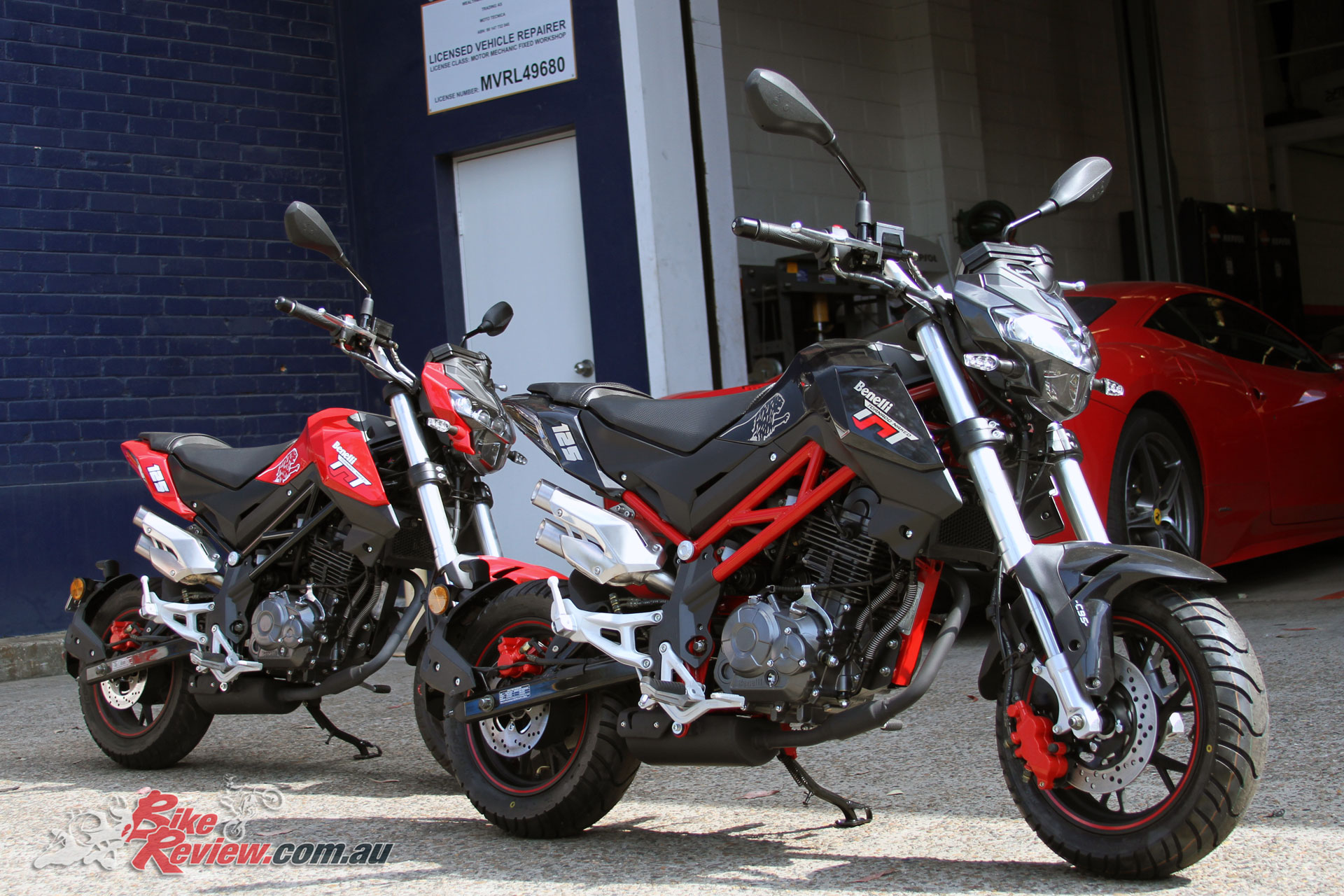 The Benelli TnT 125 in Black, and Red. The Black version features a cool red frame, while a White version is also available.
The TnT 125 is a strong contender if you ask me, as it's the clear winner in the styles stakes. A wicked streetfighter headlight assembly, with LED front indicators, lion on the tank, MV Agusta-like exhaust muffler assembly, super clean tail with integrated rear indicators and red calipers all look the business.
Then add the fact those LED indicators are super bright, the headlight offers a great throw of light (better than my everyday road bike), there's a good finish quality overall and you're onto a winner.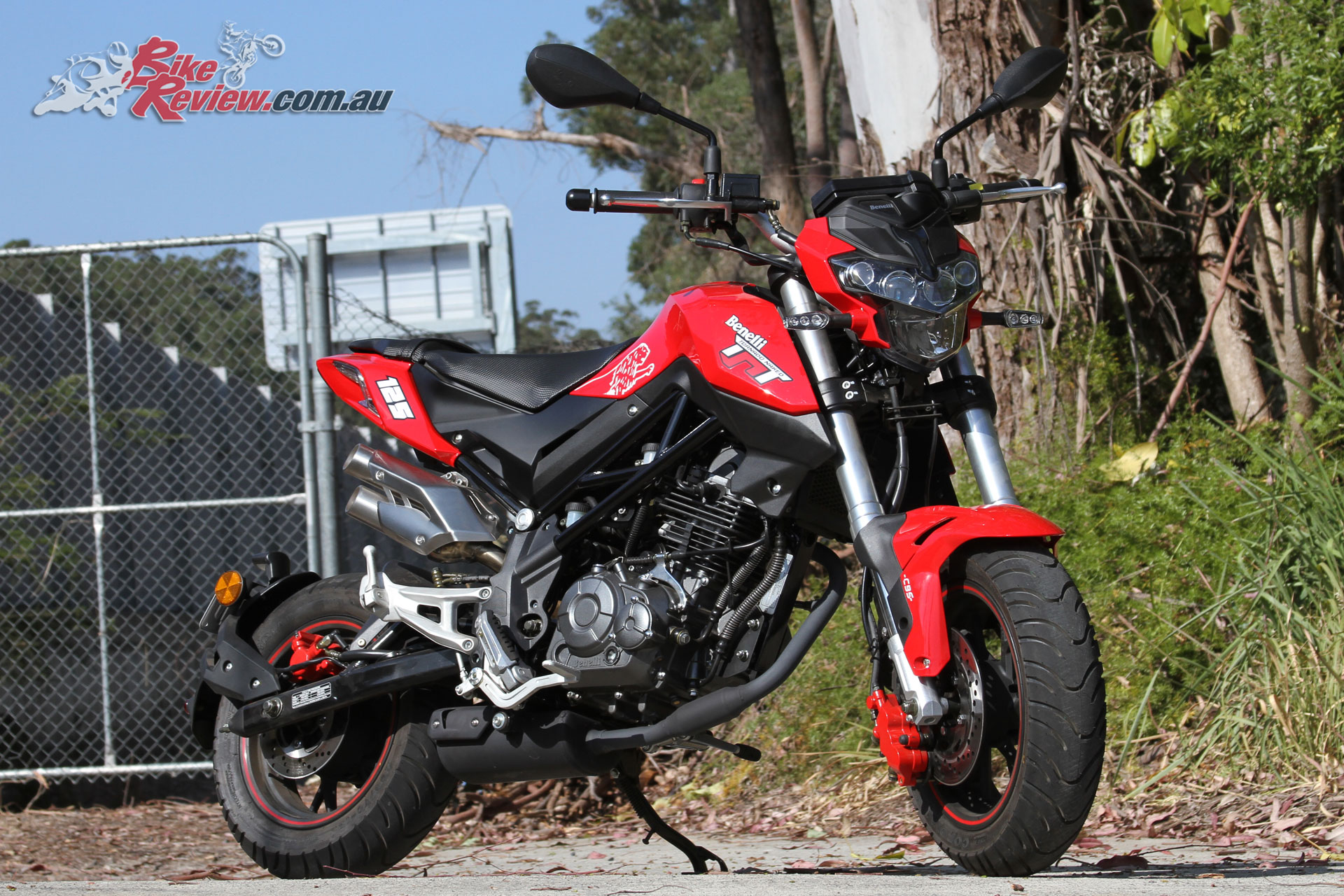 The TnT 125 is quite the looker in my opinion.
Benelli are also boasting the four-valve head, 11hp [yes, 11hp of arm wrenching power – Ed], 10Nm of torque, and a five-speed gearbox in one-upping the competition, but performance is as you'd expect limited to a comfortable 80-90km/h fanging speed. A steep downhill and tail wind will propel you to speeds in excess of 100km/h, I think I saw 111 at one point, but that's the exception, not the norm.

Avoid the freeway and roads sign-posted as 100km/h or faster, find some good 60-80km/h twisties, or stick to city riding and the TnT 125 is in its element. I took the bike up the Old Road and rode from Hornsby to Gosford with the throttle practically pinned.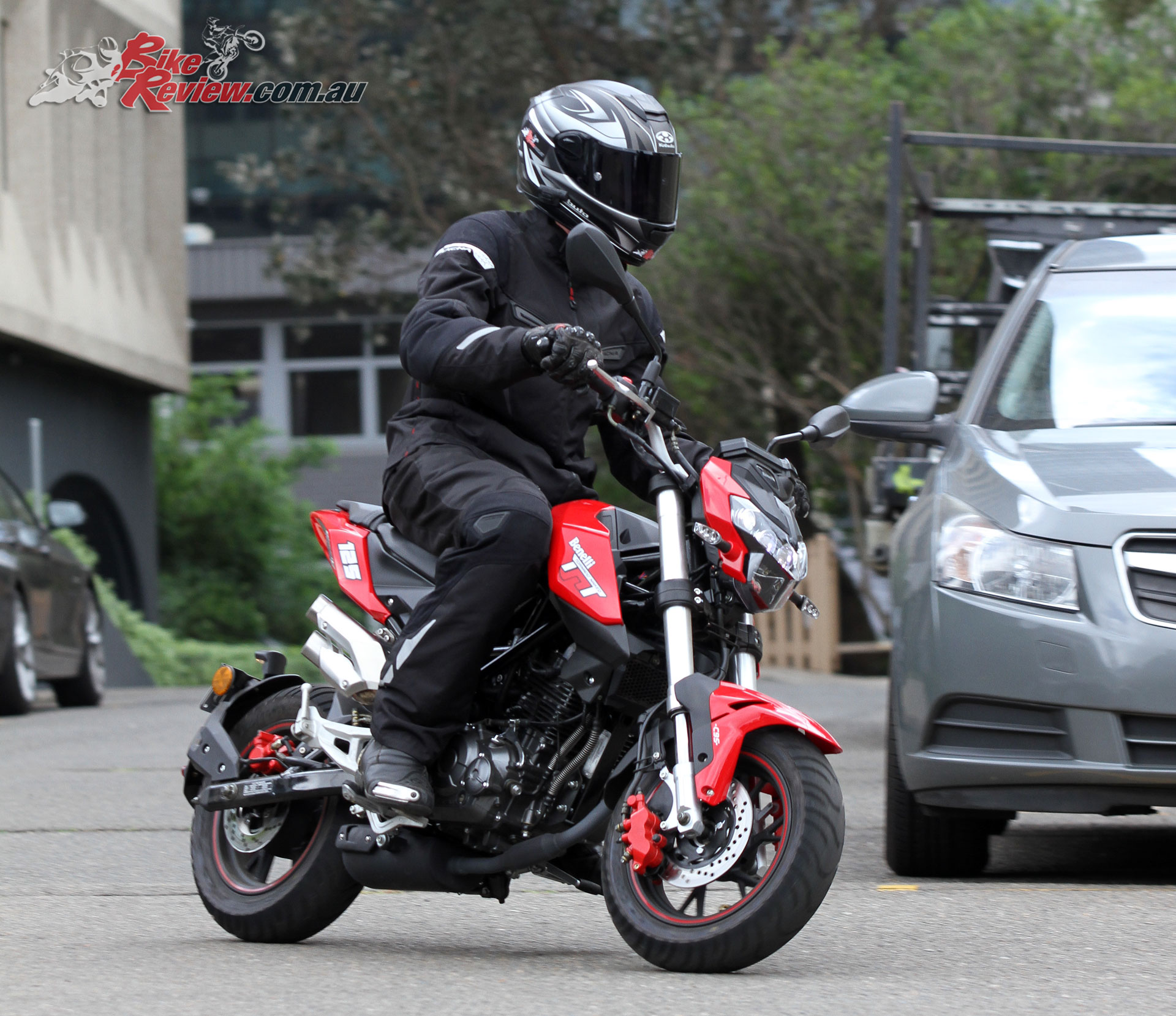 The ideal city commuter or suburban run around, the TnT 125 is nimble, light and low.
It was fun, the bike was capable, and I came out the other side with a greater appreciation for the little machine.
Suspension is pretty decent, but I'm only 70kg in gear, so it'll probably suffer with a heavier rider, and relatively beefy 41mm forks are a good choice. There's limited travel on the rear shock, with just 50mm but it's also preload adjustable. For normal use it's a reasonable system, but when I did a 200km day, by the last 50km I was starting to feel the limitations. In saying that, I doubt an owner would be doing that daily.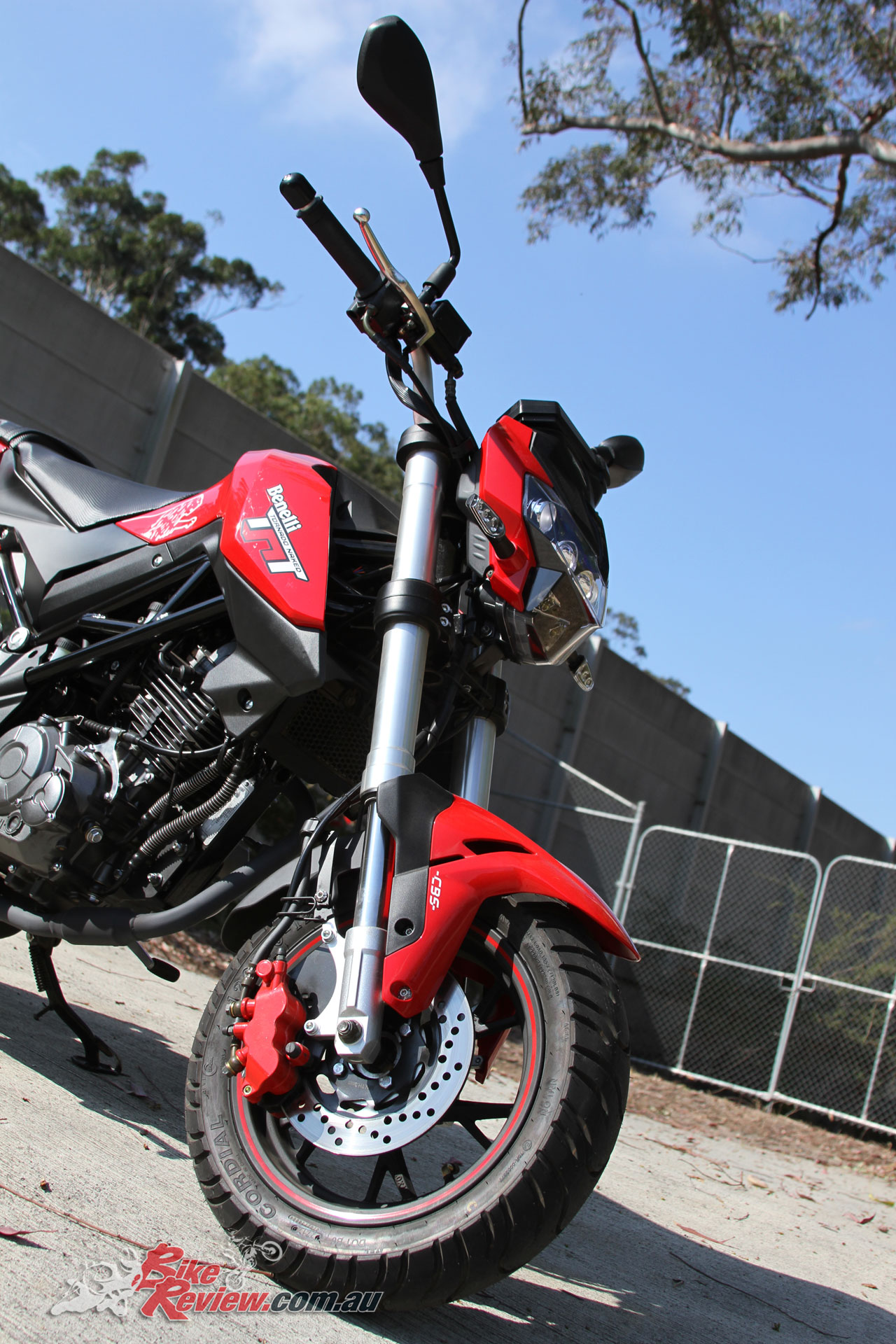 41mm forks are a nice touch, and the front end is well supported for my 70kg.
Handling is quick and responsive, with good tracking but 12in wheels do have an effect on stability when you're really pushing, and a little more input/correction is required through corners at times, than on a larger machine. As you'd expect… Stay in that 80-90km/h sweet spot (or lower) however and everything's working well and is sporty and comfortable.
Ergonomics are also good for the bike's small stature, offering a low seat height, reasonable 'peg distance from seat and comfortable reach to the 'bars. I was never cramped at 180cm, and there's good clearance, with only my toes touching down occasionally.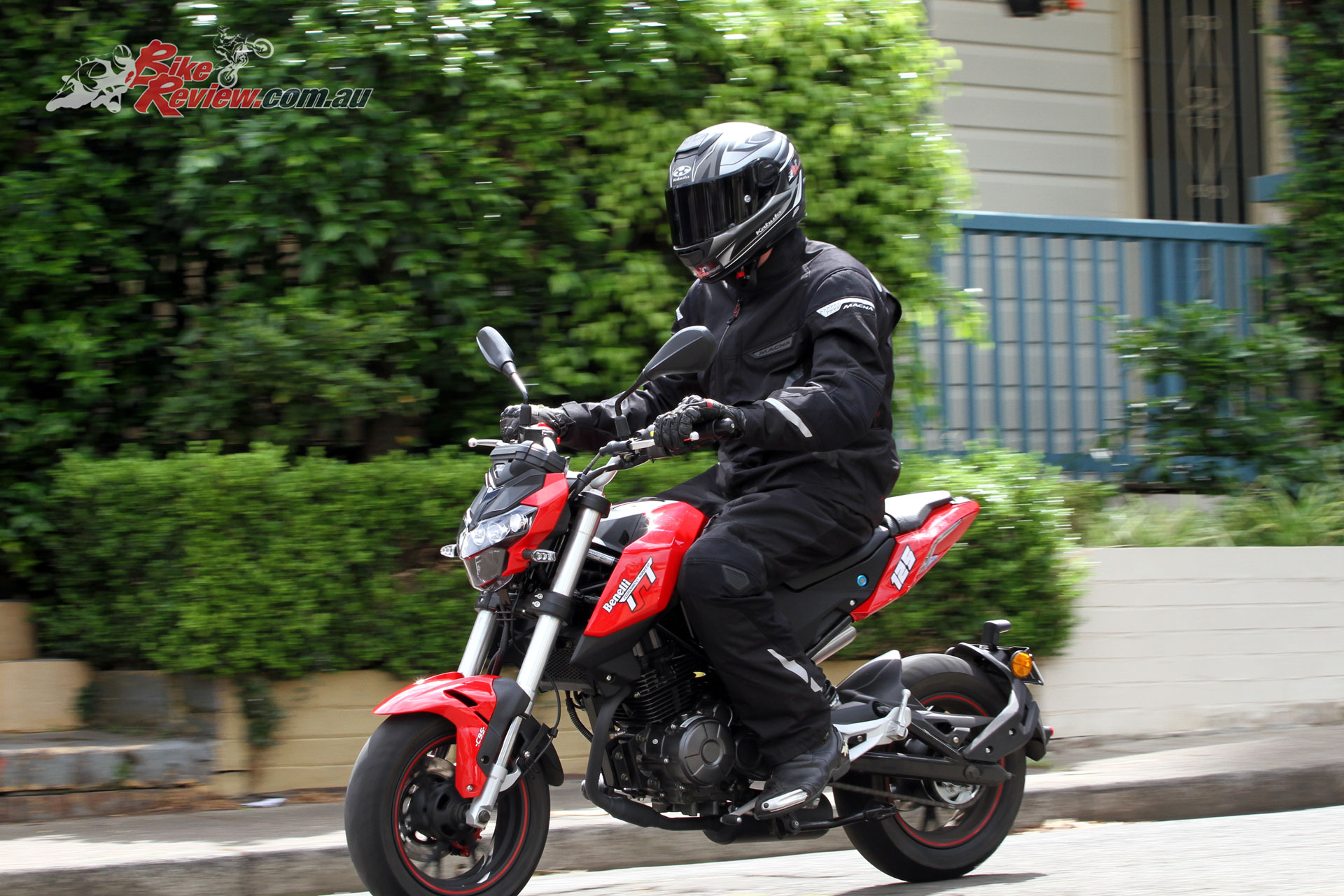 Overall ergonomics are quite good considering the size of the TnT 125.
The engine does provide a reasonable amount of go all things considered, you're quick enough to stay ahead of regular drivers, but don't expect to leave anyone in your dust if they are looking focused on a quick getaway from the lights. The five-speed gearbox basically offers overdrive in fifth, which does get you a good cruising gear, but you'll need to downshift to fourth for uphill sections or you rapidly lose pace. Third and fourth are where it all happens and you can hoon along OK for a minibike.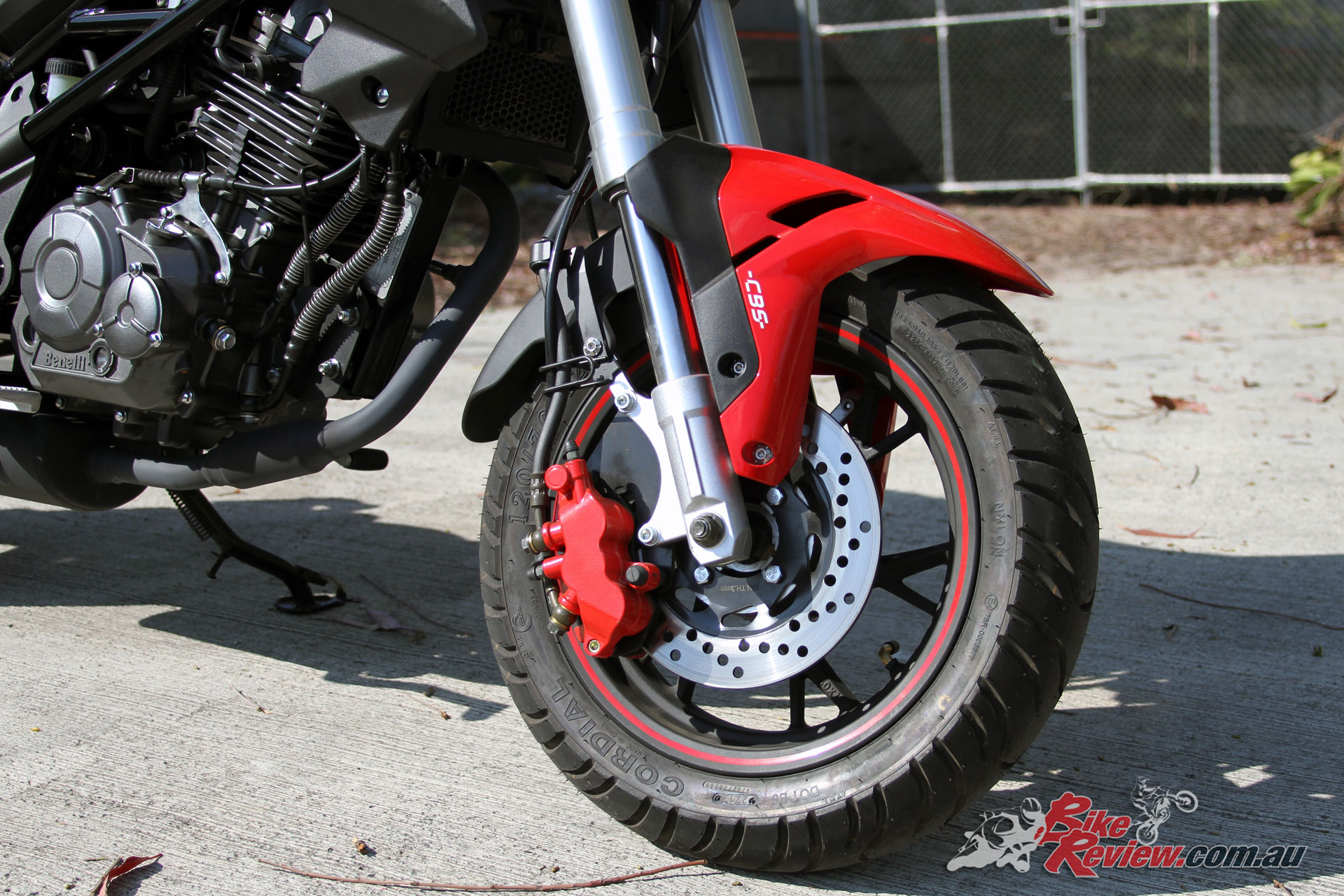 The Combined Brake System is an annoyance more than anything. Front brakes are strong for this segment. Rear brake lever travel is long with little effect.
The real weak point on this machine is the combined braking system. The front 210mm rotor with three-piston caliper is good, it offers a nice amount of bite and strong (for this bike) stopping power. It's well balanced and provides 90 per cent of what you need.
The rear brake is woeful, there's crazy levels of travel in the foot lever which means you basically need to stamp down on it to get a result. Not ideal. No ABS shouldn't be an issue, but the CBS (Combined Braking System) is definitely not a good thing and doesn't add anything to the bike's safety.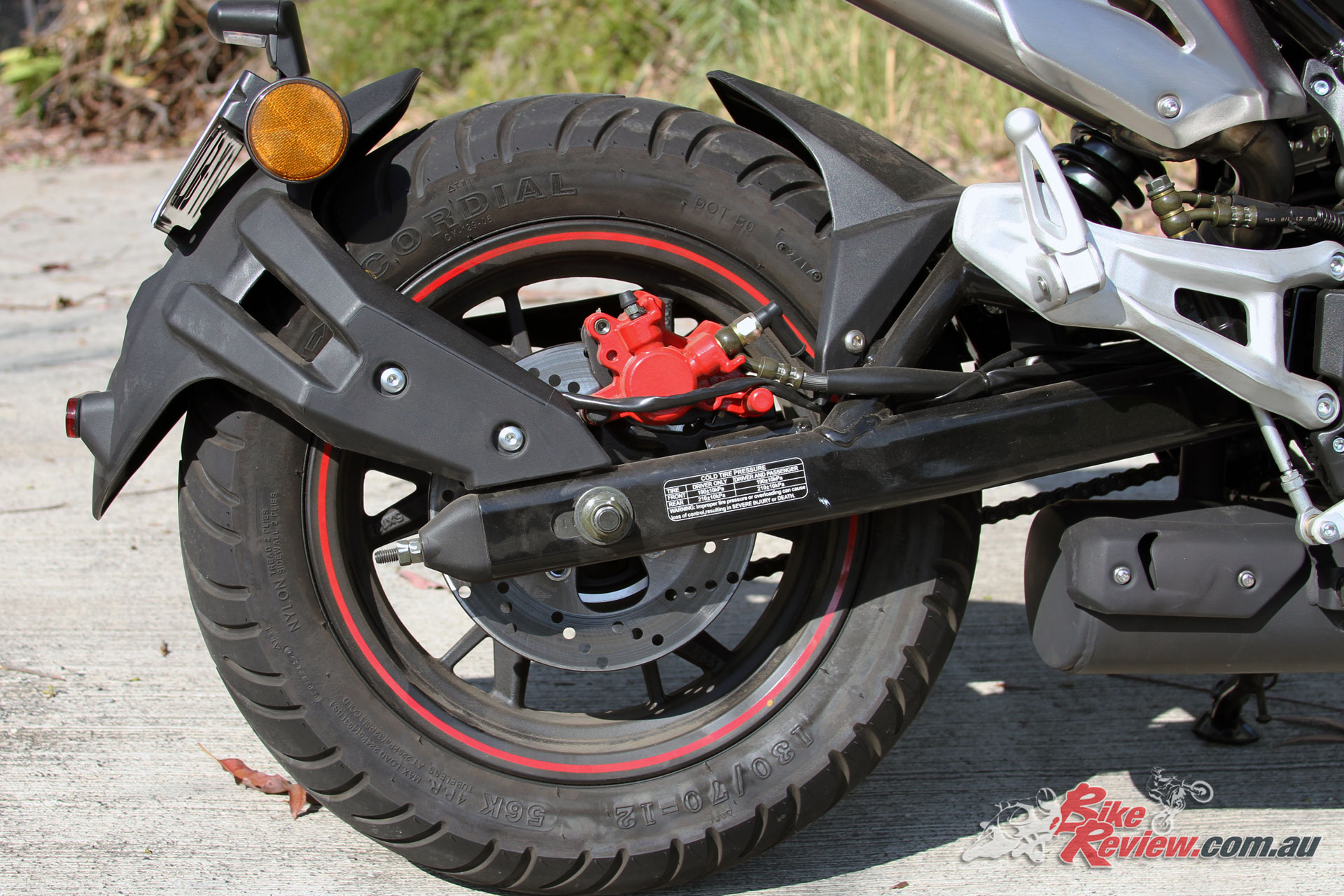 I'd convert the rear brakes to a traditional system. The swingarm mounted fender is also a cool touch, keeping the tail clean.
It may make it harder to lock up the rear wheel, which could get you into trouble, but this isn't the way of achieving that if you ask me. If I bought the bike, I'd be removing the CBS and changing it to a traditional system, if I couldn't get significantly less travel in the rear brake lever before anything happens. It's not a deal breaker, I basically use front brakes for almost everything but a tiny bit of mid-corner control, but it's still nice to have that.

My other smaller criticism is also the footpegs, they fold up, and aren't sprung, so they stay folded up, when I was running around getting some action shots, I kept knocking them up, then getting on the bike to find there was no 'peg on one side. For normal riding, with less jumping on and off I didn't really notice this.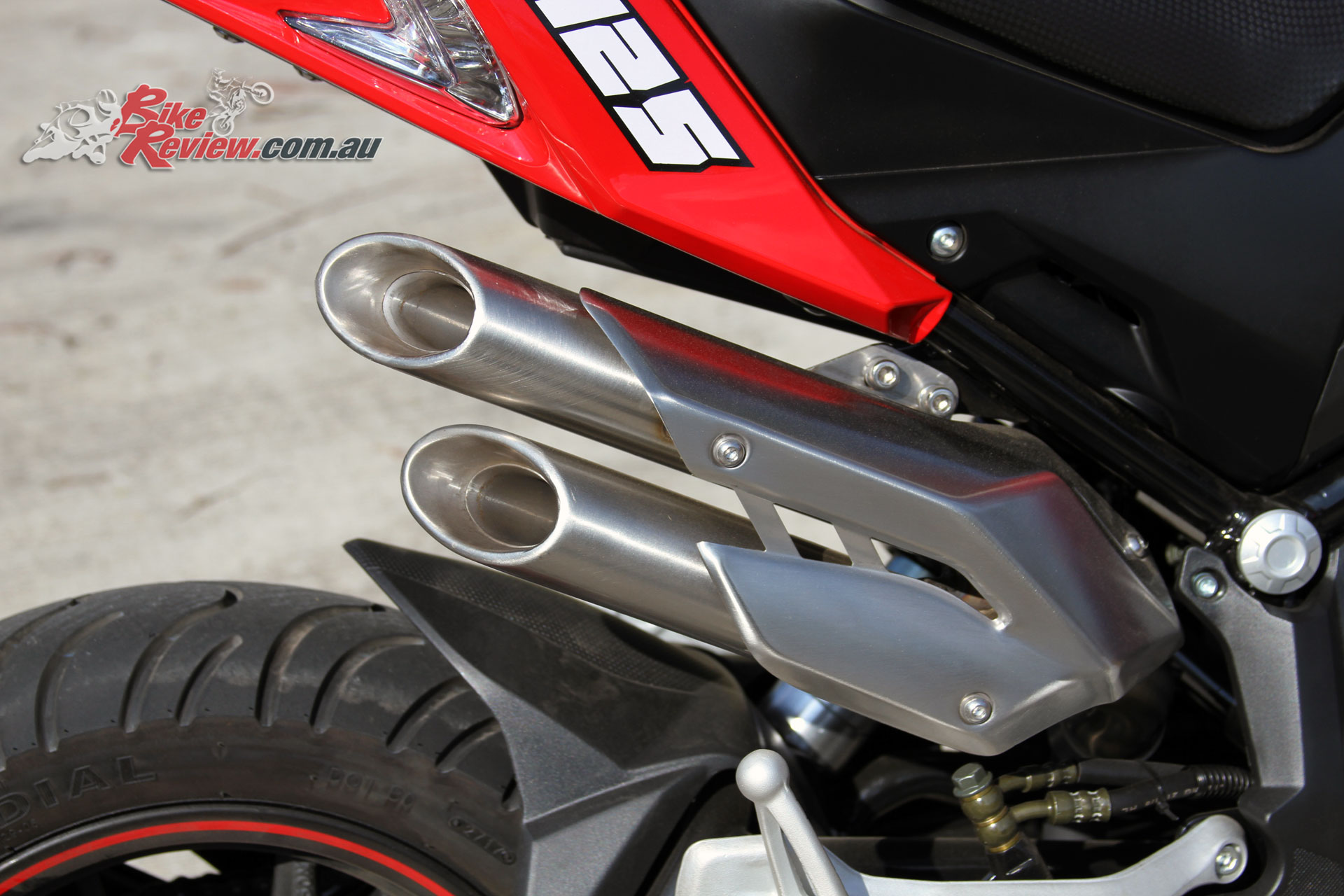 The exhaust is a cool touch and looks the business, even if it doesn't have much bark.
Overall I liked the little Benelli, it has character and would be a good inner city run-around. I think it's the most stylish of the bunch, and while the Combined Brake System is annoying, it's fixable. I can't really see any of these bikes replacing a real motorcycle, but if you're simply running around the suburbs it's a cooler option than a small capacity scooter, or as an extra toy for the garage. Plus if you've got the younger generation showing interest in two wheels this would be an easy place to start.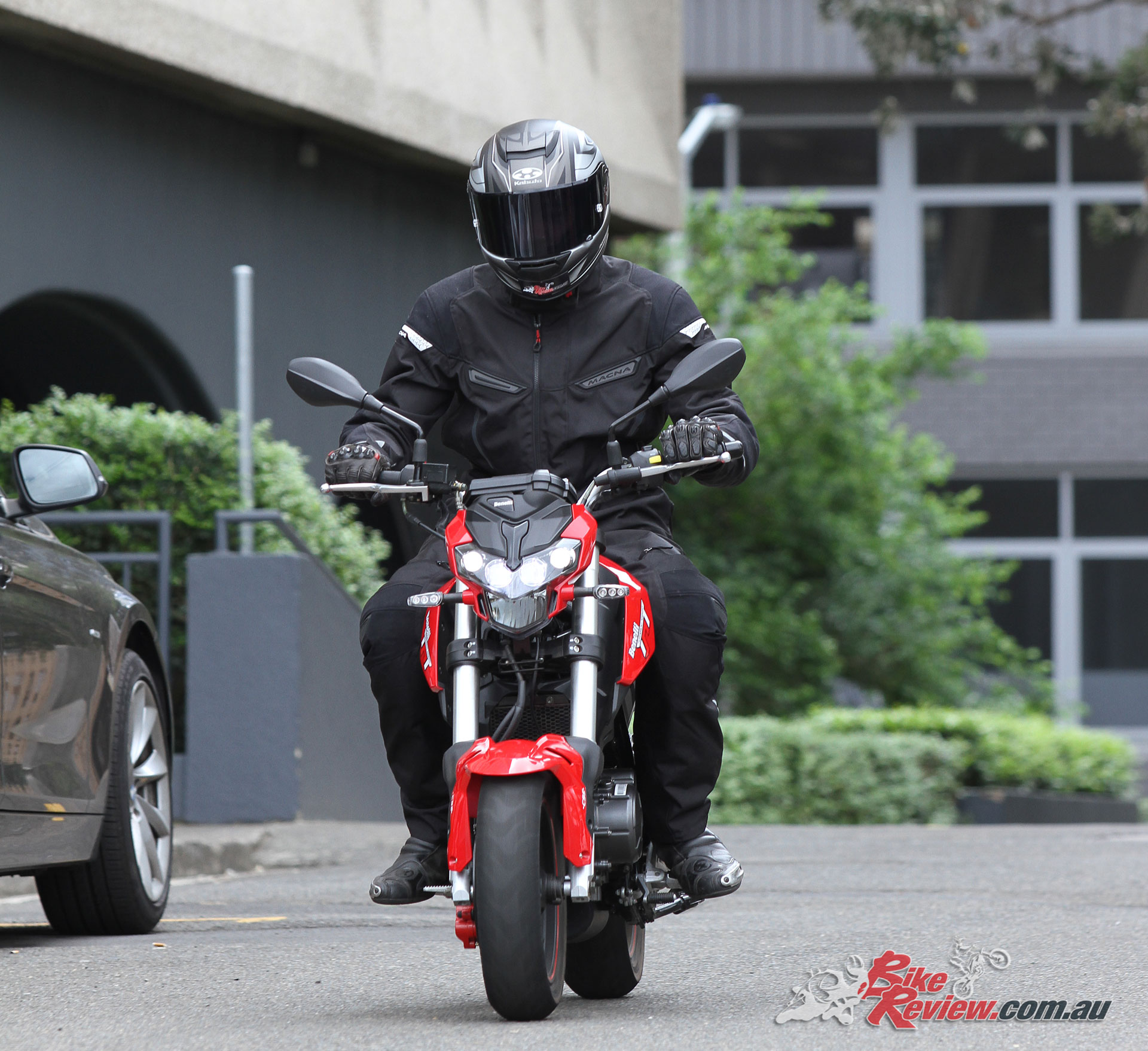 The Benelli offers plenty of character and would be a good run-around or beginners option.
2017 Benelli TnT 125 Tornado Specifications
Claimed Power: 8.2kW(11 hp)@9000 rpm
Claimed Torque: 10Nm@7000 rpm
Engine: Air cooled, four-stroke four-valve, SOHC single cylinder, double spark, 125cc, 54 x 54.5mm bore x stroke, 9.8:1 compression ratio, Electronic injection with one throttle-body 28 mm
Lubrication: Wet sump
Clutch: Wet clutch
Gearbox: Five-speed
Fuel capacity: 7.2L
Frame: Steel trellis
Front suspension: 41 mm upside down forks
Rear suspension: Rear swing arm with lateral shock absorber with spring pre-load adjustment
Brakes: Single 220mm front rotor, radial mount two-piston caliper, single 190mm rear rotor, single piston caliper
Wheels & Tyres: Aluminium alloy 12" x MT 3.0 DOT, 120/70 – ZR12, 130/70 – ZR12
DIMENSIONS
Length: 1750 mm
Width (excl. mirrors): 755 mm
Height (excl. mirrors): 1025 mm
Seat height: 780 mm
Wheelbase: 1215 mm
Curb Weight: 121 kg