2019 DUCATI MULTISTRADA 950S
5 min read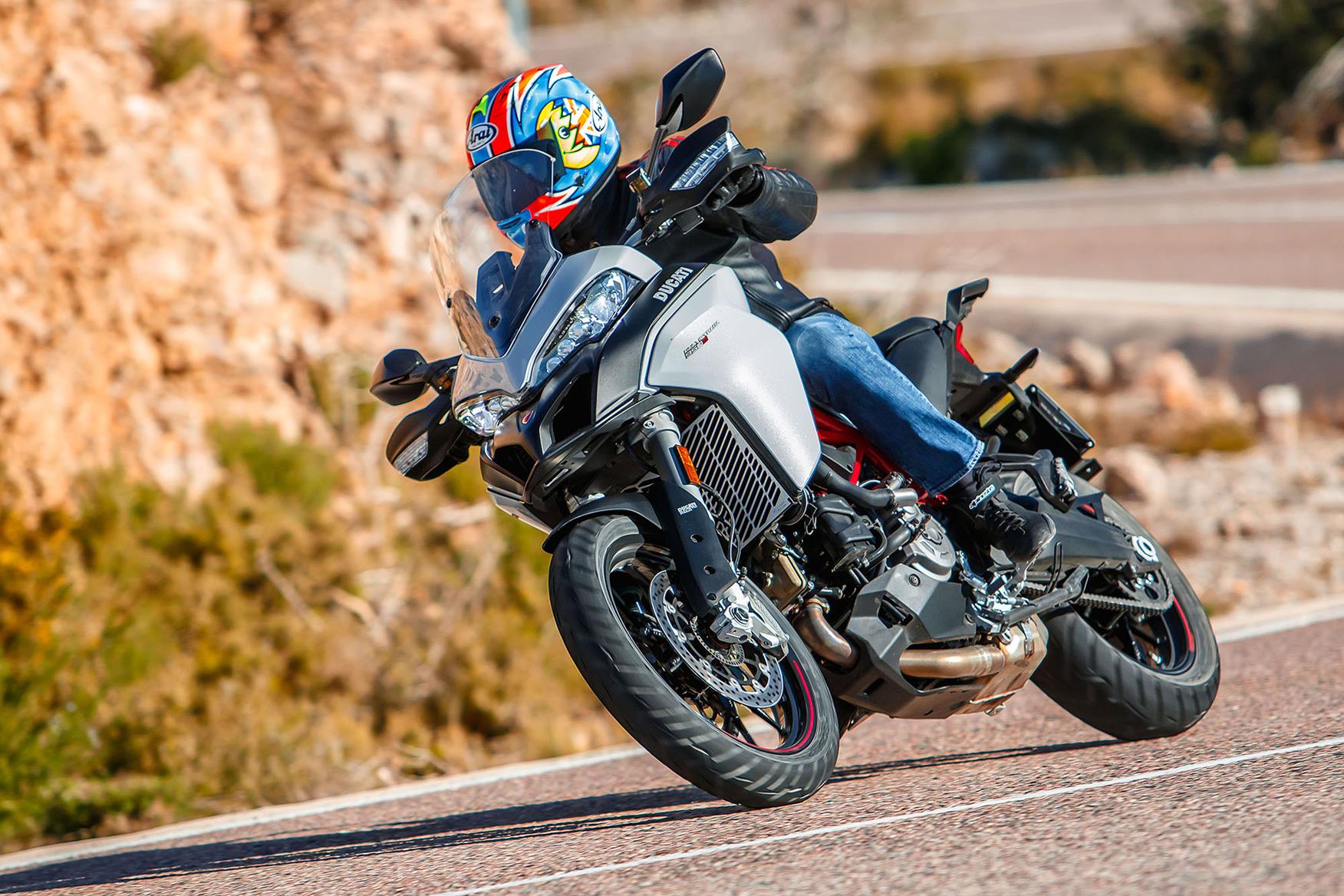 With its 'S' trimmings the new 950 is a true alternative to its big-bore Multistrada sisters
Overall Rating
4 out of 5
With its heady mix of comfort, practicality and performance, Ducati's superbike-engined Multistrada teases riders away from their sports, adventure and touring bikes on a daily basis.
But it's not always the magic sports adventure bike you'd imagine – that title goes to its little sister: the Ducati Multistrada 950. It has all the big bike's good bits, but it's even smoother, more agile and best of all, cheaper. With its 19-inch front wheel it'll even roll up its trouser legs and get its feet dirty, too.
A smattering of small upgrades doesn't add up to a huge difference to life on the 2019 version, although its new cornering ABS and traction control could be lifesavers. It didn't need much in the way of improvement, anyway, but with its electronic 'S' trimmings the 950 offers you more luxury, refinement and enjoyment. For first time it's a true alternative to its bigger, more expensive Ducati Multistrada 1260 and Enduro sisters.
PREVIOUS DUCATI MULTISTRADA REVIEWS
2010-14 Ducati Multistrada 1200 S
2004-09 Ducati Multistrada 1000
Ducati Multistrada history
Ride Quality & Brakes
4 out of 5
First seen on the 2012 Multistrada 1200 S (and BMW HP4) the 950 S gets the latest evolution of Ducati's 'Skyhook' suspension with semi-active damping and electronically adjustable rear preload.
Ducati have refined the system to the point where the damping constantly self-adjusts in the background without you noticing, but you do feel the way the suspension changes between firm and sporty, to soft and comfortable, within the riding modes. You can tune the standard settings further by diving into the menu.
It's so much easier to throw the 950 S around than its big sisters. With smaller engine parts whizzing around beneath you it's easier to turn and with less clattering, low down power to contend with the 950 doesn't overwork the rear tyre, set-off the traction control, or tie the chassis up in knots.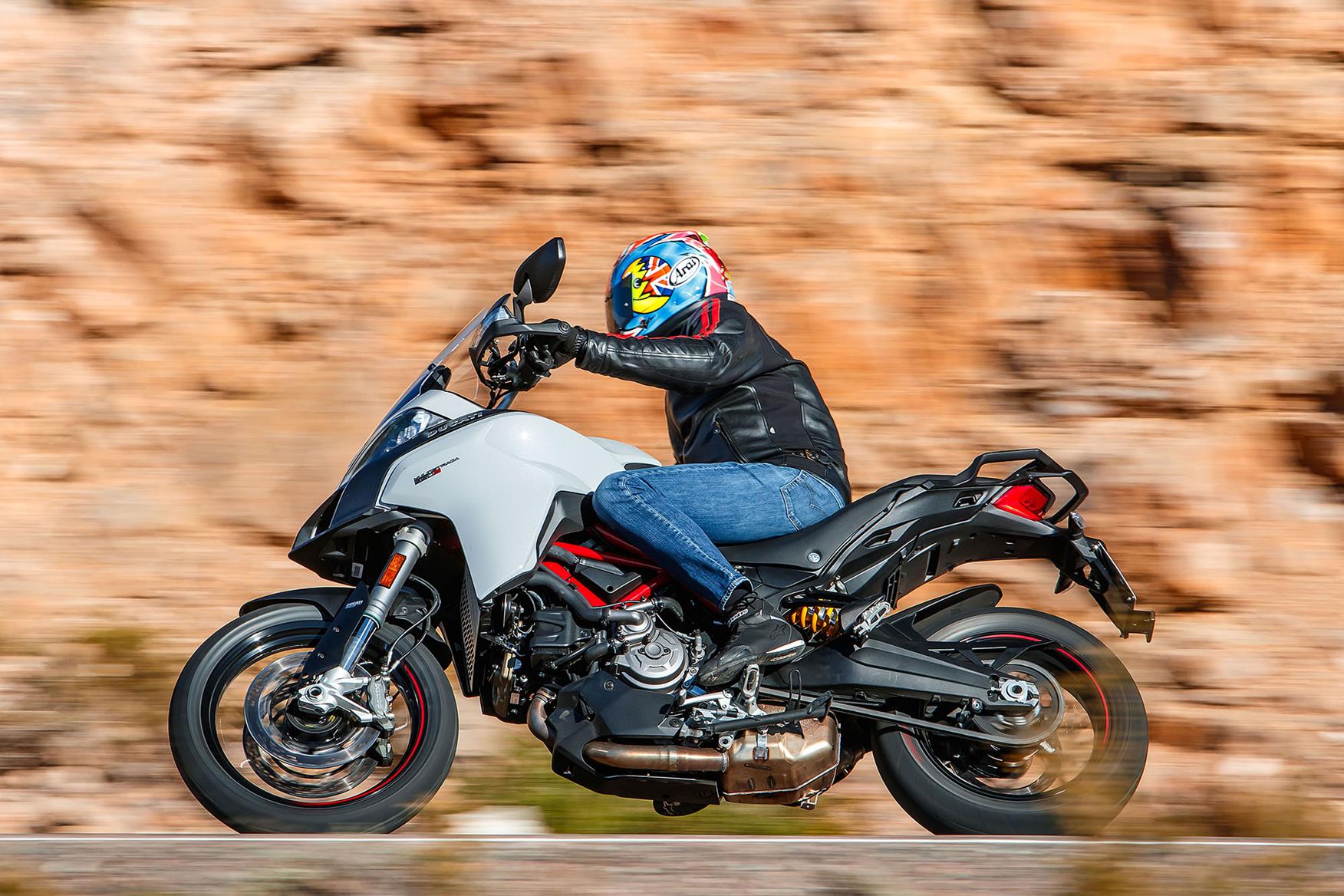 The 950 S is balanced and neutral, the Pirelli Scorpion Trail II rubber oozes black, sticky grip and its 19-inch front wheel steamrollers nicely over nasty ruts and gnarly tarmac. Brembos haul you up with the sweet race bike-like ferocity.
The 2019 950 has 0.5kg lighter wheels and (Enduro styled) swingarm. Spacious ergonomics and a daylong comfy seat are unchanged, but wind noise is still excessive at speed.
Engine
4 out of 5
Power comes courtesy of the same 113bhp 937cc V-twin motor that lives in the Hypermotard and Supersport. It's unchanged for 2019 except for a new exhaust can and clutch, which is now hydraulically operated for a lighter lever and has one fewer plate (now 10).
Unless you're touring with a very heavy load, or are hell bent on going everywhere at warp speed, there's never a time on the 950 S where you long for more get up and go. Power delivery is a lesson in ride-by-wire seamlessness and its hollow, cackling airbox roar is somewhere between a factory 916 and Barry White.
Build Quality & Reliability
5 out of 5
Our online owners' reviews report no major problems with the previous 950, so expect more of the same with the new model. Service intervals are generous, with an oil change every 9000 miles and valve check at 18,000.
Insurance, running costs & value
4 out of 5
You get a lot of classy Ducati for your money and as you'd expect there are also a huge range of official goodies to choose from, including four accessory packs:
Touring Pack: Panniers (31/26 litres), heated grips and centre stand.
Sport Pack: Termignoni exhaust can, billet aluminium water pump cover, LED indicators.
Urban Pack: top box, tank pocket, USB port
Enduro Pack: auxiliary lights, crash bars, radiator and sump guard, steel footpegs.
There's also a Multistrada 950 S Spoked Wheels model, or the spoked wheels are available separately as an option.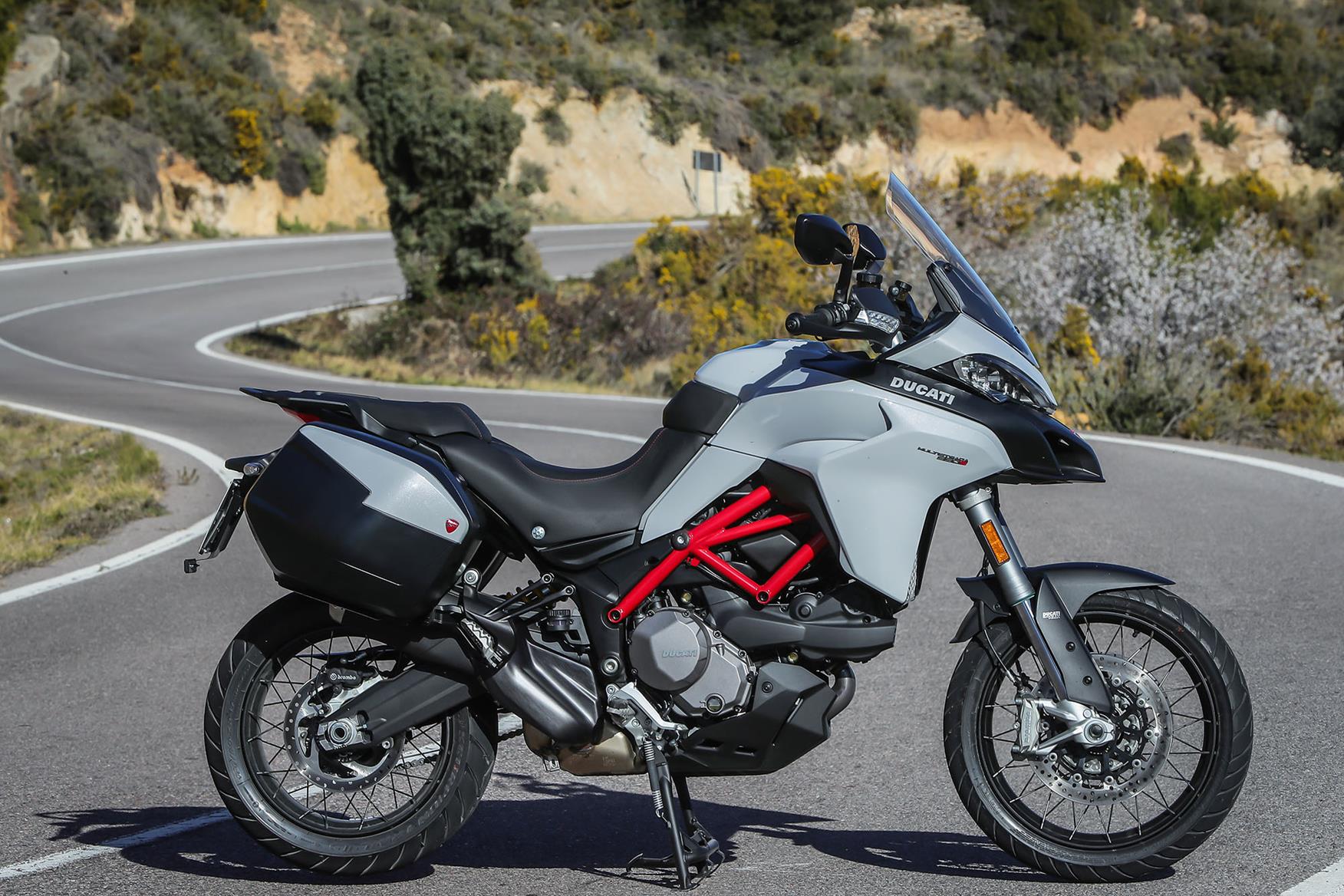 Equipment
5 out of 5
Just like the Multistrada 1260 S and Enduro, the new 950 S comes with an embarrassment of silicone riches included in the price. A new Inertial Measurement Unit (also now fitted to the 950 base model) facilitates lean-sensitive traction control and combined ABS, as well as cornering (LED) headlights, a hill hold system and self-cancelling indicators.
You also get an up/down quickshifter and cruise control. Granted, you could take all of the electronic trinkets away and it would still delight, but they add convenience, refinement and for the first time with the 950, that warm, fuzzy feeling only a special Ducati can give.
Effortless gear changes are guaranteed with the new quickshifter, but it always seems a bit brutal on the gearbox using an autoblipper on a big twin. It works well enough, but using the clutch won't make you wince as much.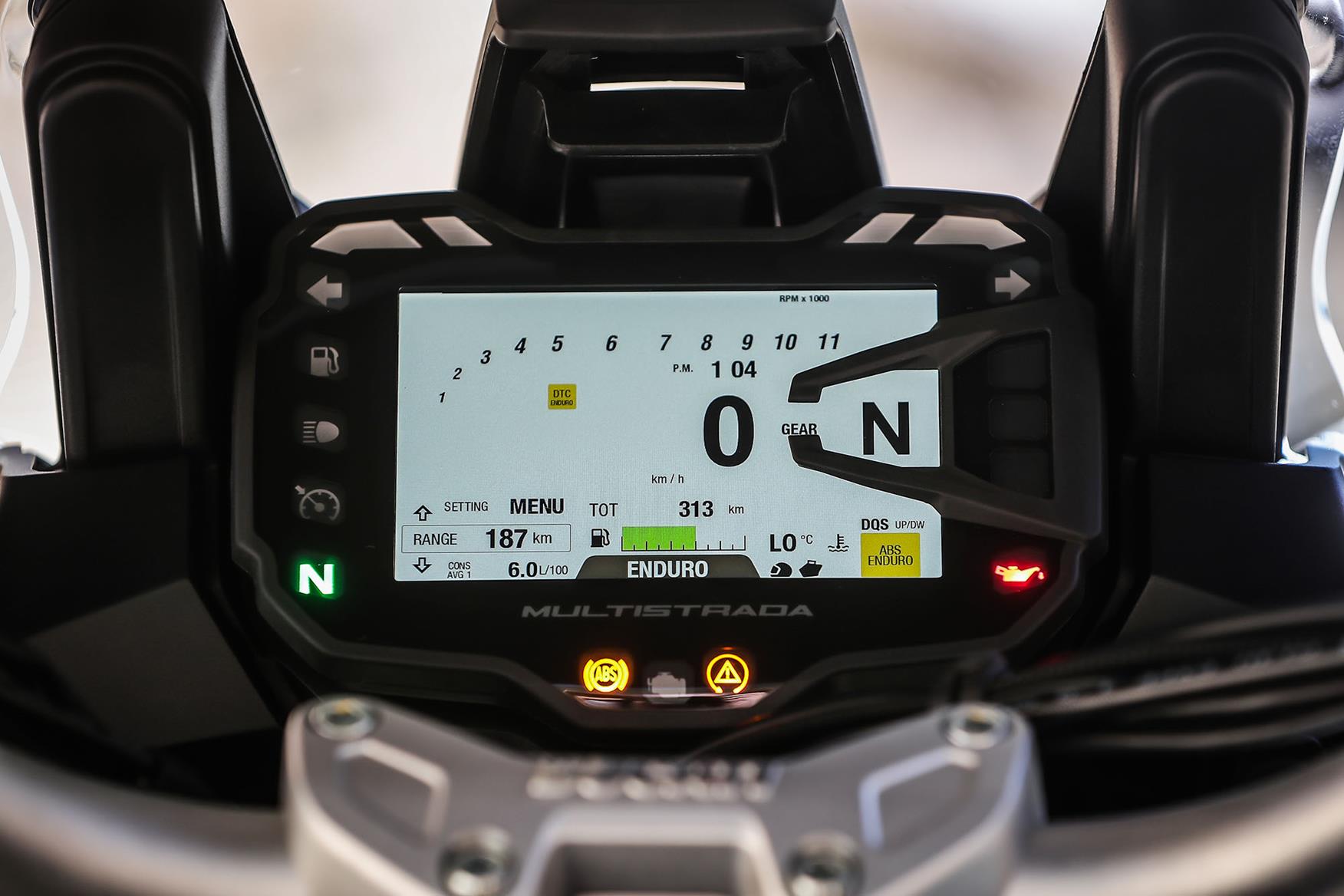 Traction control and ABS, on the other hand is a whole different bowl of pasta and a topic that always sparks debate. Few riders deliberately brake or accelerate up against rider aids and when we rode 950 S at its launch, the Ducati's electronics remained untroubled, so is there any point? Well, it's nice knowing they're there and they only ever need to save you once…
At the heart of the Ducati's new electronics system is its classy new 5" TFT colour dash. Not only does it harbour lots of useful information and controlled seamlessly by new back-lit switchgear buttons, it's the main interface for all the electronic rider aid adjustments – from traction control to engine power, ABS, quickshifter settings, suspension and everything in between.
There are over 400 electronic settings, which may sound like a minefield, but on-screen graphic and pictorials make it a piece of cake to adjust…or you can use the Ducati Link app and do it via your phone.
Facts & Figures
Model info
Year introduced
2019
Year discontinued
–
New price
£13,335
Used price
£13,400 to £14,600
Warranty term
Two years
Running costs
Insurance group
–
Annual road tax
£91
Annual service cost
–
Performance
Max power
111 bhp
Max torque
71 ft-lb
Top speed
130 mph
1/4-mile acceleration
–
Average fuel consumption
–
Tank range
–
Specification
Engine size
937cc
Engine type
Liquid-cooled, 8v V-twin
Frame type
Tubular steel trellis
Fuel capacity
20 litres
Seat height
840mm
Bike weight
207kg
Front suspension
48mm Showa forks, semi-active damping. Mechanically adjustable preload
Rear suspension
Showa shock, semi-active damping. Electronically adjustable preload
Front brake
2 x 320mm discs with four-piston radial monobloc calipers. Cornering ABS
Rear brake
265mm rear petal disc with twin-piston caliper. Cornering ABS
Front tyre size
120/70 x 19
Rear tyre size
170/60 x 17
History & Versions
Model history
2017: Multistrada 950 released, featuring 111bhp, 937cc V-twin motor from Hypermotard and Supersport. Chassis is similar to big capacity Multi with slighter lower spec cycle parts.
2019: Lighter wheels, swingarm, Inertial Measurement Unit, cornering traction control and ABS, hill start, self-cancelling indicators and hydraulic clutch. S version introduced with electronics lifted off Multistrada 1260 S and Enduro.